St. Augustine Fl- The Menendez Falcons finished their season with a winning record (5-5) after a 20-6 win over the Tocoi Creek Torros Tuesday. "I was very proud of the way we finished the season," said Menendez first year coach Matt Potak. "The team faced a lot of adversity. We will build on this season and keep moving forward." At one point this year Menendez was down to their third string quarterback. King Benford did not play this year because an injury at a preseason scrimmage. Junior quarterback Noah Lawless missed three games with an injury. However, the Falcons showed poise with a lot of contributors.
Menendez was led by a strong defensive and special teams effort. Falcons Kicker Bryce Addison kicked two field goals and linebacker Ryon Pickles returned an interception 85-yards for a touchdown. Quarterback Noah Lawless added a 55 yard touchdown run. Defensively, Menendez forced 4 Toro turnovers. Michael Boccio recovered a fumble with Terrell Newsome, Jayden Williams, and Pickles having interceptions.
Defensively, the Falcons forced nearly thirty turnovers on the season. The defense was led by first year defensive coordinator Ronnell Ray. Ray, a Riverside graduate, led a tough defensive effort all season. Long time linebacker coach Michael Jefferson and defensive line coach Marquel Williams also contributed. "I've been around Menendez Football since 2007 and I can say this was the best defensive group I have ever seen," said Potak. "All of our defensive coaches have major ties to the school. Coach Jefferson was Tony Steward (former Bills linebacker) and Willie Harvey's (former Browns linebacker) position coaches. Coach J brings passion to our program and has since 2005. Marquel was a graduate here and played for our first playoff winning team. He inspires our kids."
Palatka Fl- It's been a rebound type of year for Menendez as the Falcons have played tough football all season despite major adversity. After losing All-area Quarterback King Benford to injury before the start of the regular season, Head Coach Matt Potak and company had to rebound and rebound quickly. The Falcons last three games have come down to the final play of the game. Menendez defeated a playoff bound Terry Parker team, in overtime, on October 8th. The following two contests the Falcons lost close games to District winner North Marion (17-10) and playoff contender Clay (21-16). Yet as they have done all year, the Menendez Falcons got back in the win column with a big 28-24 win over rival Palatka on Friday night.
"I am very proud of our team," said Falcons first year coach Matt Potak. "The kids have faced a lot of adversity this season but they keep showing up and working hard. I am extremely grateful for the kids, families, and coaching staff".
_________________________________________________________________________________________________________________________________
Kenny Logan named to All-Big XII Team
2019 Menendez graduate, Kenny Logan (DB), earned Honorable Mention accolades on the the All-Big XII Team for the 2022 season.
Kansas' leading tackler with 96 to his credit, Logan ranked fifth in the Big 12 Conference in tackles, while his 96 takedowns were the most by a Big 12 defensive back this season. Logan is the first Jayhawk since 2012-14 to lead the team in tackles in three-straight seasons (Ben Heeney). Logan also added two interceptions, four pass breakups, one tackle-for-loss, one fumble recovery and one forced fumble. Logan was the first player in the country this season to register 14 tackles, 1 TFL and 1 interception in the same game.
---

2019 Menendez grad, JUCO All-American Tye Edwards signs football scholarship with UTSA
Chris Boyle, St. Augustine Record – December 21, 2021
Tye Edwards begins every football season with a prayer.  That dates back to his Pop Warner days, and it continued through a stellar career at Menendez High in which he blossomed into one of the most feared running backs in Florida.  This year, as he braced for the fall campaign at Hutchinson (Kan.) Community College, Edwards said he asked God for three things: to continue leading him in the right direction, to remain level-headed and to stay healthy throughout the season.
The last part did not go according to plan.
Edwards suffered a high left ankle sprain in Hutchinson's second game, clouding his chances at a Division I college scholarship. When he returned in mid-November, the punishing 6-foot-3, 228-pound back knew he had to make up for lost time.  "I knew if I stayed healthy, I'd be where I needed to be," Edwards said. "It's not being cocky; I just know the type of player I am.
"God can't do it all. You've got to meet him at least 50-50 and put the work in on the field and in the weight room."
Edwards finished the season with a flourish, carrying the ball 19 times for 210 yards and two touchdowns in a 66-34 victory over Hinds (Miss.) in the Salt City Bowl on Dec. 4. The No. 3 JUCO running back recruit in the country, according to 247Sports' composite rankings, Edwards scored in each of his team's final three games.
Those performances — coupled with significant movement due to transfers, graduations and NFL draft declarations — put Edwards back on the recruiting radar. He committed to the University of Texas-San Antonio (UTSA) Sunday night and signed a letter of intent the following day.
————————————————————————————————————————
Kansas safety Kenny Logan Jr. named to preseason All-Big 12 team
July 6, 2022  Zac Boyer    Lawrence Journal-World
Kenny Logan Jr. is still gaining attention for what he accomplished last season.
The Kansas senior, whose 113 tackles were the most in the conference by a safety, was selected to the preseason All-Big 12 team on Wednesday.
He was the only player on the Jayhawks recognized by the conference, which named 29 players, including five defensive backs, to a first and a second team.
Logan, an All-Big 12 second-team player last season, also forced two fumbles, recovered one, had an interception and broke up six passes. He had a season-high 15 tackles in the 31-28 loss at TCU on Nov. 20 and followed that with 14 tackles in the finale, a 34-28 home loss to West Virginia on Nov. 27. He also finished with at least 10 tackles in three other games last season.
A starter since 2020, Logan is expected to resume that role this fall for the Jayhawks, though the back end of the secondary will look different than it did a year ago. Ricky Thomas, who started 11 of 12 games alongside Logan, was a fifth-year senior, and he will likely be replaced by Marvin Grant, who started all 13 games for the Boilermakers last season and finished second on the team with 52 tackles.
Kenny is a 2019 graduate of Menendez High School.
——————————————————————————————

Kenny Logan named to the 2021 All Big XII 2nd Team
Junior Kenny Logan, a 2019 graduate of Menendez High School, flourished in 2021, putting together one of the most productive seasons by a defensive back nationally. Logan led the Big 12 with 113 tackles, which leads all defensive backs in the country. He also led the Big 12 in total tackles, tackles per game and solo tackles per game (6.6). Logan's 79 solo tackles rank third in the country. He is the only player in the nation with 110+ tackles, 6+ pass breakups, 2+ forced fumbles and 4+ tackles-for-loss. Logan finished the season incredibly strong, posting double-digit tackle games in each of his last three games, including posting a career-high 15 tackles at TCU. Against the Horned Frogs, he also posted two tackles-for-loss, becoming just the second defensive back nationally to have 15 tackles and two tackles-for-loss in the same game. A dangerous returner as well, Logan averaged 27.9 yards per return as a kick returner, which ranked third in the Big 12 and 14 nationally.
Congratulations Kenny!
———————————————————————————————————
Hutchinson Community College Blue Dragons
2021 NJCAA Football National Champions
On June 5, 2021 the #1 ranked and undefeated Hutchinson CC Blue Dragons defeated Snow College 29-27 for its first NJCAA Football National Championship in school history.  The Blue Dragons ended their season 8-0.
2019 Falcon Football alum Tye Edwards played an instrumental role in the victory with 20 carries for 139 yards and 2 TD's, including a spectacular 68-yard TD run.  Tye was named the MVP of the game.
A 6-foot-2, 235-pound redshirt freshman, Tye was also named NJCAA First Team All-American.  He was the Blue Dragons' leading rusher with 710 yards on 107 carries with eight touchdowns and a 6.6 yard-per-carry average for the season.
Congratulations on a great season!         #BreatheFire
—————————————————————————————————–
Kenny Logan named ALL-Big XII Honorable Mention
2019 Falcon alum Kenny Logan was named All-Big XII Honorable Mention as a Kick Returner while playing for the Kansas Jayhawks.
Logan emerged as a playmaker this season (2020) in the return game, highlighted by his 100-yard kickoff return for a touchdown against Iowa State on Oct. 31. He averaged 39.7 return yards per game, finishing with 345 total return yards this season.
Congratulations Kenny!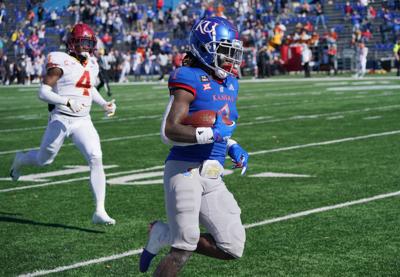 https://throughthephog.com/2021/06/10/kansas-football-kenny-logan-will-stand-out/ —————————————————————————————————–